19 May 2021 –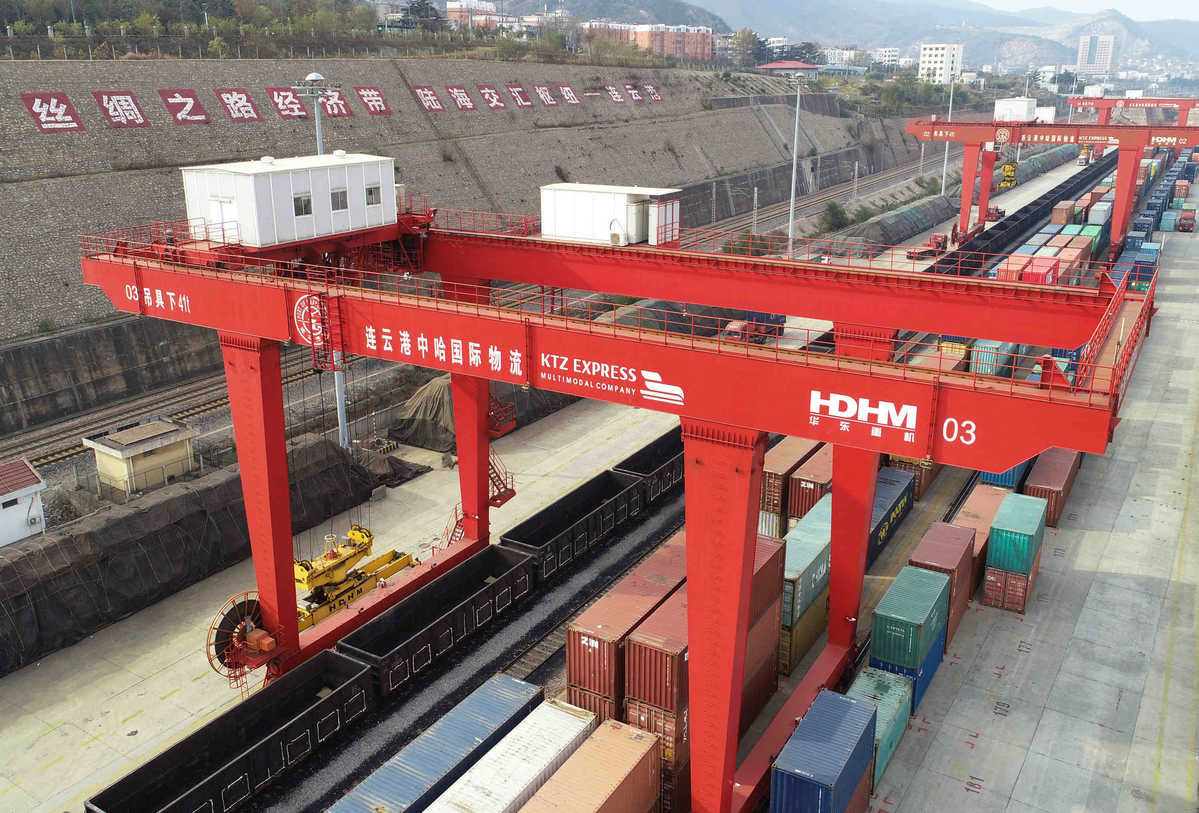 Cross-border transportation corridors are helping to boost trade volumes and the global fight against the COVID-19 pandemic
The China-Europe freight trains that leave Lianyungang, Jiangsu province, for Kazakhstan not only provide a safe and reliable international logistics channel, but also contribute to the global fight against COVID-19.
In March, trains carrying 3 million doses of the COVID-19 vaccine arrived in Kazakhstan with the support of the Lianyungang customs and railway departments.
Moreover, last year, 553 trains carrying 45,408 Twenty-foot equivalent unit shipping containers arrived in Europe from the port city, a rise of 17.27 percent year-on-year, according to the Lianyungang Port Group.
In 2014, President Xi Jinping and Kazakhstan's President Nursultan Nazarbayev witnessed the launch of the first phase of the Sino-Kazakhstan International Logistics Base via a livestream as they attended that year's Shanghai Cooperation Organization summit.
Meanwhile, in 2014, Lianyungang Sino-Kazakhstan International Logistics, a joint venture, was established by Lianyungang Port Group and a Kazakh company.
As the first international platform for the countries to build the Silk Road Economic Belt, it was also the city's first international trade program to implement the Belt and Road Initiative.
With total investment of 606 million yuan ($94 million), a 220,000-square-meter goods yard has been built, allowing the company to store about 1,763 TEU containers.
With 3.8 kilometers of railway lines to transport the containers, the maximum annual handling capacity of the base has reached 410,000 TEUs.
Reduced journey times
In December 2015, operations started for freight trains departing Lianyungang to Europe through Kazakhstan.
The trains, which passed through six countries to reach their destination in Germany, took just 12 days to complete the whole trip, about one-quarter the time required to transport the goods by sea.
In February 2017, the first batch of wheat-about 720 metric tons-was transported from Kazakhstan to the Sino-Kazakhstan International Logistics Base before being carried by cargo ships to countries in Southeast Asia.
In 2017, Xi and Nazarbayev also witnessed a livestream of the latest achievements in logistics cooperation between the two countries and the launch of cross-border transportation between China, Kazakhstan and other Asian and European countries.
Xiang Xuelong, Party secretary of Lianyungang, said the city will further deepen communications and cooperation with countries participating in the BRI and undertake more thorough reform and opening-up activities.
"We will strive to establish a more open and more vigorous platform for those countries," he said. "We will build an international hub port, a 300,000-ton crude oil terminal and a 400,000-ton ore terminal. We will also continue to improve our services, increase new shipping routes and improve efficiency of clearance procedures at customs."